Navgrah Dosh Pooja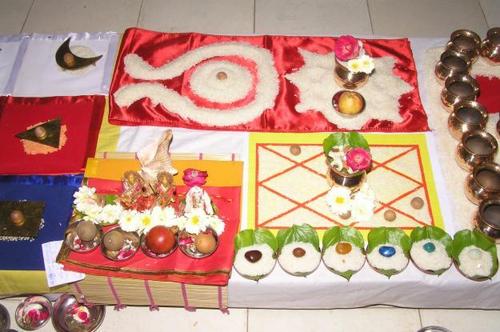 Navgrah Dosh Pooja
Navgrah Shanti Puja/ Hawan/ Remdies

If a planet is not well placed in ones chart its Shanti Pooja/ Homa removes or reduces the negative effects and gives better results. Apart from that Graha Shanti is desirable in case of severe Mangala Dosha or Sadesati. During the Dasa or Antardasa of a planet if the planets Graha Shanti Homam is performed one experiences better results. Apart from that, anyone desiring improvement in any particular aspect of life, like profession or health etc., can get the Shanti Pooja/ Homa of the particular ruling planet for better results. The planet's pooja is done with the prescribed materials and 1008 namavali of the planet are recited and 1008 sookta recital is done.
Mandir Address:-
Shri Rahu Dham Mandir
Shri Rahu Dham in village Chetaani Jamsher Dairy Complex
Jalandhar 144020 Punjab (India)
Contact
Help Line No.
+91-8699447788
+91-9876655228
+91-9417055228
Head Office
85 New Gopal Nagar Near Workshop Chowk
Back Side Jalvials Place
JALANDHAR-144001 PUNJA (INDIA)
Contact +91-9417055228
Branch Office Ludhiana
Jassian Chowk, 22 Foot Road, Opp. Ram Sweets
Haibowal, Ludhiana - 141001, Punjab, India
Contact +91- 9417055228